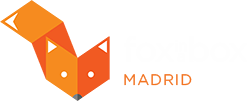 Welcome to Fox in a Box! We are the emotion locked in a room, we are the adventure behind each track, we are… your next unforgettable experience.
We introduce ourselves: we are one of the pioneers in the fascinating world of escape games in Madrid. Since we opened our doors in the vibrant Chueca neighborhood in 2015, we have dedicated ourselves to providing intense adventures, challenging puzzles, and an unrivaled gaming experience to groups of friends, families, work teams, and curious adventurers.
We have turned our passion for puzzles, intriguing stories and collaborative play into our profession. At our facilities inside Madrid Fly, we are proud to present two of our star games: "The Legacy of Mr. Fox" and "Escape Kids xL: The Time Traveler".
"The Legacy of Mr. Fox" immerses you in an adventure full of mysteries and surprises. Walk in the footsteps of this enigmatic character, discover his story and, if you can, solve his legacy. But remember, time is ticking…
For our little geniuses and their families, we have created "Escape Kids xL: The Time Traveler". In this adventure, they will travel through time, discovering historical secrets, solving challenges and living an educational and fun experience at the same time.
But this is only the beginning. In our rooms, every corner, every object is part of the enigma. Every second counts, every decision matters. Are you ready to accept the challenge and experience the excitement of an escape room?
We are waiting for you to discover together the spirit of adventure and the taste of victory!
The Legacy of Mr. Fox (60min 2-8px)
The maximum number of players is 8 and the experience lasts 60 minutes. It is a game suitable for both children (+8 years) and adults.
Mr Fox's Legacy is a 60-minute escape room in which children must solve different tests and puzzles inside Mr Fox's office in order to achieve their inheritance.
If "children exclusivity" is chosen, children enter alone with a Game Master who will guide them at all times. The Fox Kid option requires an adult to enter the room with them.
The time traveler (75min 10-20 children)
Our adventure created for up to 20 children at the same time and with a duration of 75 minutes of fun and mysteries.
El viajero del tiempo Kids, this game is a Hall Escape, that is, a game that follows the dynamics of escape rooms, but focused on one or more objects that will help them complete the mission.
Will you be able to overcome the challenge?